The Market 
New Listing numbers continued their trend of recent months and were once again well below normal for this time of year.  And yet, despite the increase in interest rates and low listing volume, Buyer activity continues to be strong.  The combination of these 2 factors has led to a further drop in the Supply of Inventory, which is now at 3.52 Months.  To put things in perspective, back at the peak of the housing bubble in June 2005, the Supply of Inventory was 2.77.  That is very close to where we are today.  One main difference between now and then?  Buyers today are much more disciplined with regard to price and house selection, which has led to a much more sustainable property appreciation rate.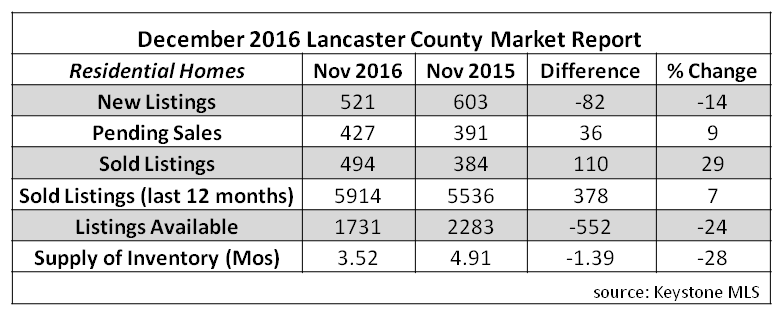 Thinking of Selling?
The first step is for me to walk through your home with you so I can give advice on how best to get your home ready for the market.  This might include suggesting things such as making repairs, neutralizing wall/carpet colors, decluttering and getting a pre-listing home inspection.  The sooner you allow me to help, the more effective my advice can be.
Want to know what your home is worth?
Don't rely on the information provided by popular third party websites like Zillow to tell you the value of your home.  These sites are filled with inaccurate information.  Allow me to help you determine the true value of your home. There is no cost for this service. Give me a call, or click here to request a personalized Home Value Report.
Thinking of Buying?
First step is to get preapproved.  I can recommend a local, reputable lender for you to meet with.  Interest rates have risen (4.25% for a Conventional 30 year) and are expected to continue a steady rise through 2017.
Approved for a loan?  Ready to start looking?
Click here to receive a Daily Email List of Homes for Sale as they Hit the Market!